BYD, the Chinese automaker, has just pulled the curtain back on its 2023 Tang EV, and it's turning heads for all the right reasons. This electric SUV is not just another pretty face in the crowded EV market. It's a seven-seater with a range that rivals some of the best in the business, and it comes with a price tag that's more "weekend getaway" than "second mortgage."
The 2023 Tang EV comes in three flavors: a 373 miles range model for £27,800, a 454 miles range model for £30,500, and a 395 miles four-wheel-drive version for £33,300. You can go from point A to point B, and maybe even to point C and back, without having to stop for a recharge. And if you're worried about the cost, don't be. These new models are actually cheaper than their 2022 counterparts. So, you're getting more car for less money. How often does that happen?
£27,500 373 miles and 7-seat electric SUV">
The all-new dancing and singing Tang EV is not just about range and affordability. It's also about style and substance. The vehicle sports new 20-inch wheels and comes equipped with the Disus-C intelligent damping body control system. In layman's terms, it's like riding on a cloud that also happens to look really cool.
Connectivity? Check. All models are 5G-enabled, so you can stream, navigate, and tweet (what is tweeting called these days?) to your heart's content without any lag. And speaking of space, this SUV is roomy. With dimensions of 192.9 inches in length, 76.8 inches in width, and 67.9 inches in height, you won't have to play a game of human Tetris to fit everyone and everything in. In fact, the new Tang is only 0.59 inches shorter than the new Audi Q8 e-tron – and that is a large SUV.
Performance-wise, the Tang EV doesn't disappoint. Depending on the model, you're looking at horsepower ranging from 225 to a whopping 510. The four-wheel-drive version can even go from 0-62 mph in just 4.4 seconds. That's not just fast; that's "late-for-work-but-still-made-it-on-time" fast.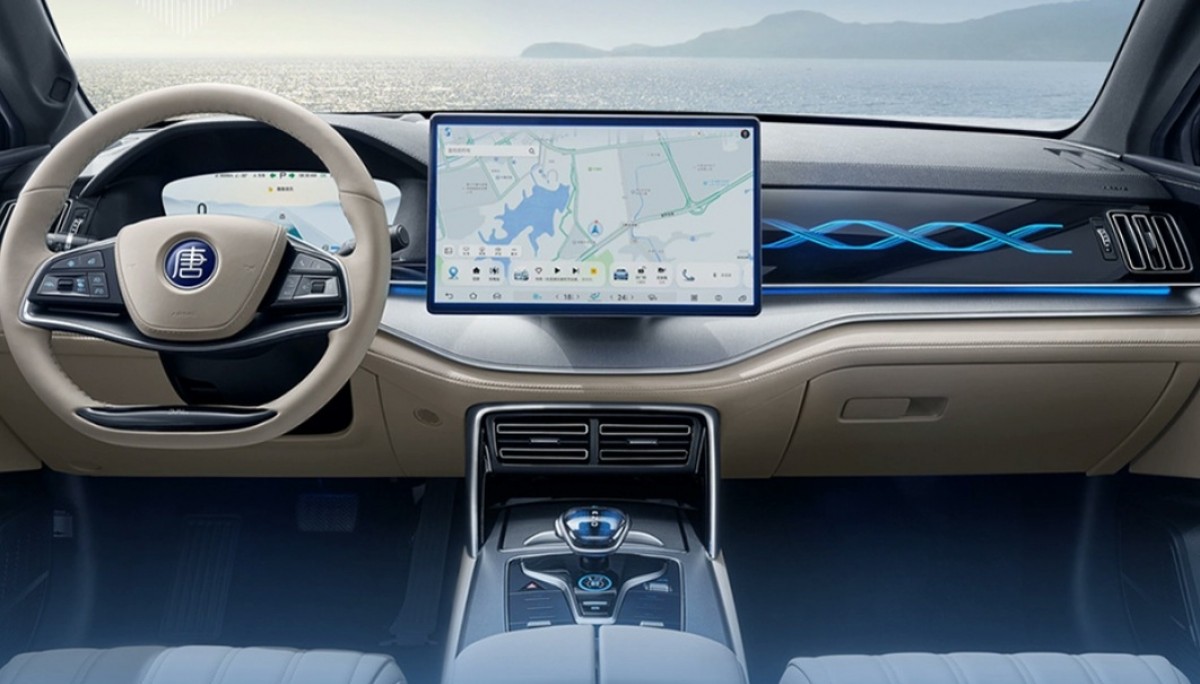 £27,500 373 miles and 7-seat electric SUV">
And let's not forget about the batteries. These SUVs come with BYD's self-produced Blade LFP batteries, which not only offer reliable performance but also support fast charging. You can go from 30% to 80% charge in just 30 minutes. That's less time than it takes to watch an episode of your favorite Netflix show but – conversely – not as fast as some competitors.
In addition to the Tang EV, BYD also unveiled its 2023 plug-in hybrid models, the Tang DM-i and Tang DM-p, with more than a 10% price reduction compared to their previous versions. It's clear that BYD is committed to making electric and hybrid technology accessible to everyone. Or rather it can't really afford to be outmatched by Tesla's relentless race to the bottom.
So, if you're in China, and are in the market for an electric SUV that offers a blend of range, performance, and affordability, the 2023 BYD Tang EV should be on your shortlist. There's a very good chance we'll see the new Tang in Europe and other markets but one thing we won't see is its attractive pricing – it's fair to expect its price to double when it reaches these shores.