The race in the automotive industry seems to be shifting gears. Normally our fixation is with horsepower, sleek designs, and how fast a car could zoom from 0 to 60 mph. Enter Geely Automobiles, who placed an entirely different focus on its latest car.
During its recent internal conference, CEO Gan Jia Yue nonchalantly announced that Geely has been cooking up an all-new, fully self-developed AI large-scale model technology, expected to hit the public domain later this year.
Now you might be wondering, what's so special about this large-scale model? Well, Geely purports that it is the "world's first comprehensive large-scale model for the automotive industry." Not just that, it also wears the badge of being the 'most versatile in terms of application scenarios.' This AI model aims to cover all bases, including functions like painting, music, and language. It's almost like the Swiss Army Knife of AI models, if you will.
Geely Galaxy L6
But the cherry on top? This model also has autonomous driving capability. We're talking about achieving full coverage of data models on a scale of billions, tens of billions, and hundreds of billions. This isn't just any run-of-the-mill self-driving tech we're used to hearing about. It's a monstrous leap forward in autonomous vehicle technology – if it lives up to the hype, of course.
Geely's Galaxy L6, the second new car model under Galaxy New Energy, will be the first to flaunt these AI interactive technologies. The L6 boasts dimensions of 188.3 inches / 73.8 inches / 58.6 inches (length/width/height) and a wheelbase of 108.3 inches.
The power comes from a 1.5-liter engine combined with an electric motor – this new EREV system is called Thor Intelligent Hybrid System 8848. It will also feature the 'Aegis' (Shield) battery safety system. It seems Geely's marketing team spent a lot of time watching the adventures of Tony Stark.
During its recent performance testing, the Galaxy L6 achieved a 0-62 mph acceleration time of 6.3 seconds, an 50 mph–75 mph acceleration time of 3.7 seconds, and in 'high-speed mode,' it reached a top speed of 153 mph. This car promises intelligence, and it's got the performance to back it up.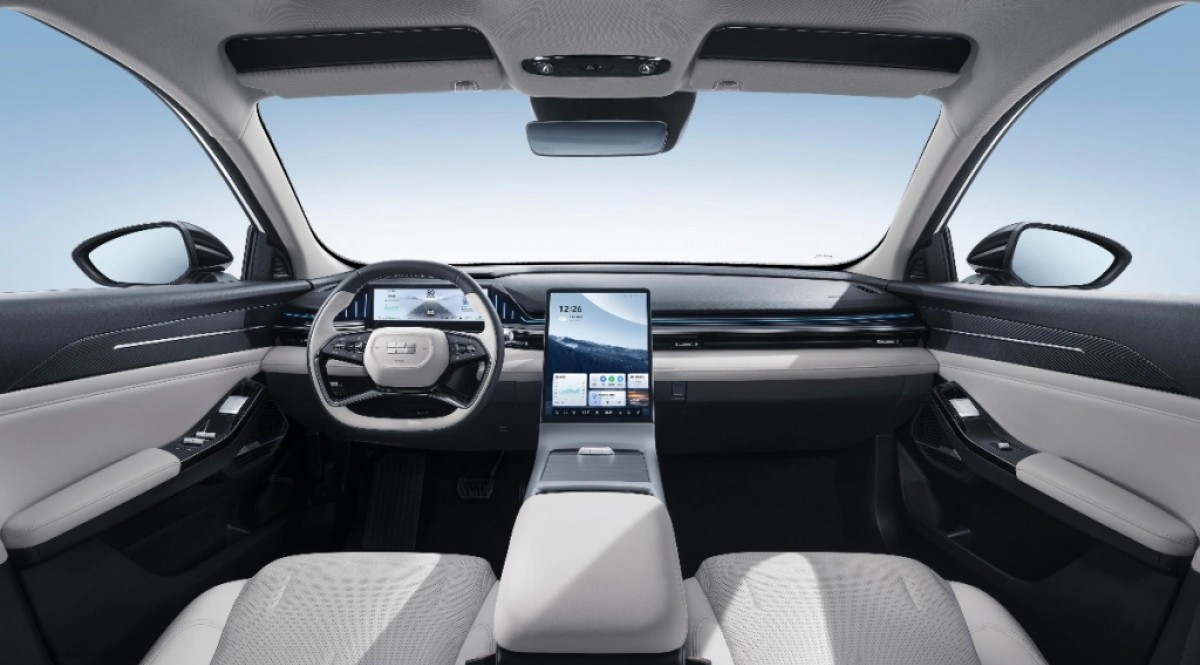 The AI technology from Geely is set to transform the landscape of the automotive industry – no doubt. As long as it delivers, that is. By now, we are used to the hype surrounding autonomous driving. Recent AI developments certainly add a little bit of credibility to self-driving technology, but as soon as a company CEO starts talking about cars that can read books, paint pictures and discuss the latest events – all that while self-navigating – our eyes just do an uncontrollable flip. And yet, this tech is coming – whether we like it or not, whether we believe it or not.
If you're a car enthusiast, tech geek, or just someone who loves to see cool stuff, brace yourselves for the grand reveal in September. Because Geely decided that manufacturing cars is not enough – it's time to start crafting the future of mobility. And frankly, Geely has enough expertise under its wide wings to pull this off.