We reported not long ago that Human Horizons is preparing to launch its brand in Europe. We didn't expect to be reporting so soon that the first electric vehicle from the brand has already been approved for the EU market. HiPhi X earned TÜV SÜD stamp of approval and will be the first EV from the brand to go on sale across Europe.
HiPhi X is the first and the largest car from the Chinese company. At 5.2 meters in length, it is only 3 cm shorter than the Mercedes EQS making it the third-longest passenger EV on the European market. The winner is the BMW i7 – at nearly 5.4 meters the German electric sedan is nearly as long as Ford F-150 Lightning or Rivian R1T but neither of the two EVs is available in Europe.
If the size of the HiPhi X wasn't dramatic enough, it surely gets points for vehicle access. If you thought Tesla Model X was the winner with its Falcon doors – wait till you see this. Rear passenger doors are split in half, when you approach the car the roof part lifts up and the rear-hinged door swings open. To top it off there are no door handles – the retracting door handles that we came to admire as a highly advanced idea, are too old-school for HiPhi.
European customers are getting the dual-motor 528 hp version with the 97 kWh battery pack. The WLTP rating isn't yet available and the CLTC rating is a highly optimistic 648 km (403 miles). Both 6 and 4-seat versions are coming to Europe, with the 4-seat version featuring airline-style captain seats in the second row with a fridge in between them.
The interior comes with a multitude of screens – the main 19.9-inch screen is mounted on a robotic arm that adjusts it in an unlimited number of ways. Rear passengers have dedicated 8-inch screens and the 17-speaker sound system provides an immersive audio experience.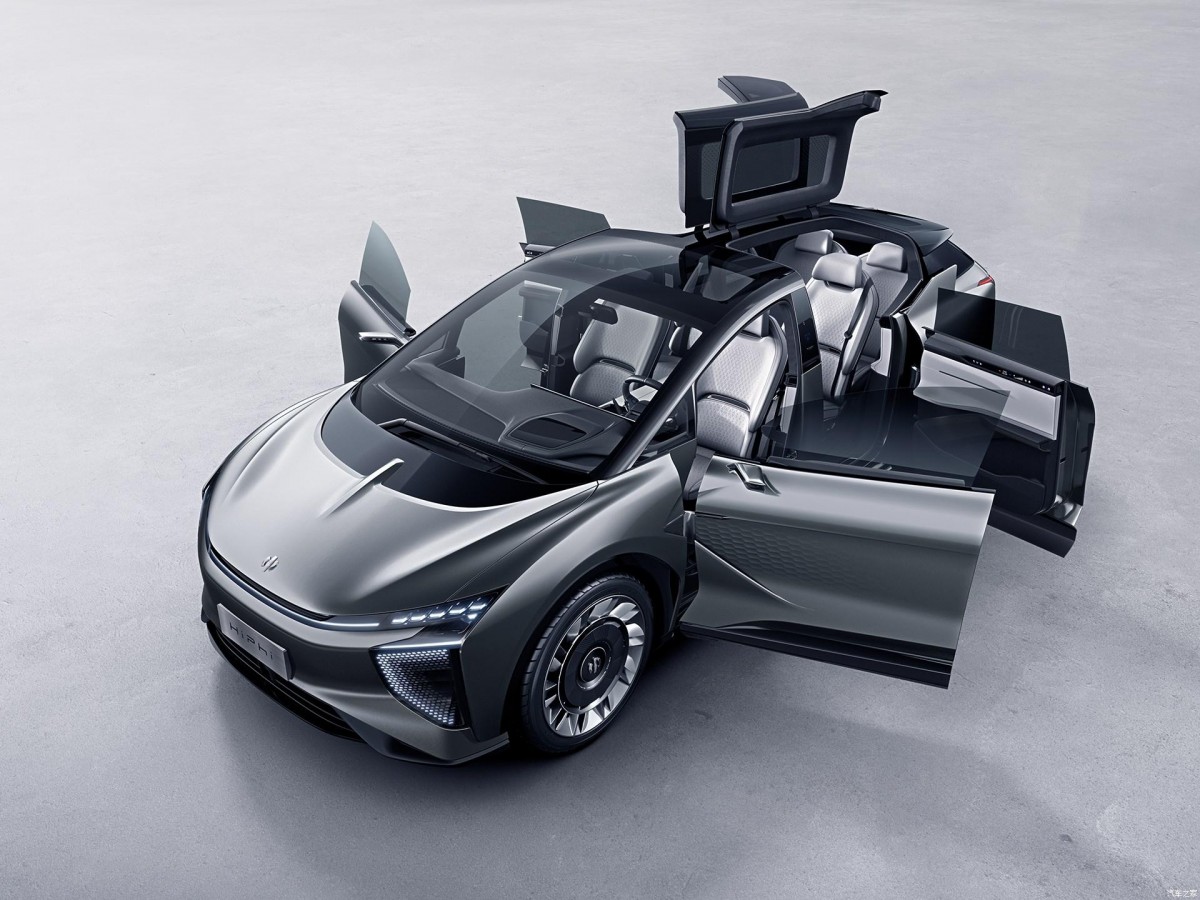 The prices haven't been announced yet for Europe but in China, HiPhi X is priced at an equivalent of $92,000. The company claims its Chinese customers mainly are former Mercedes-Benz younger owners and that can make the German brand uneasy. In this segment, sales numbers are never big and it will be interesting to see if European buyers are willing to step up.
HiPhi X will be followed by the HiPhi Z sedan and then HiPhi Y, the smallest electric vehicle from Human Horizons. The latter debuts this week at Shanghai Auto Show and has been apparently designed with international markets in mind. In plain English, it means it's smaller and less controversial because Westerners like boring cars – apparently.