In the first half of the year, CATL was still the reigning king in terms of EV battery market share. The global EV battery capacity sold in the first six months of 2023 grew 54% compared to the same period last year, reaching over 300GWh, according to Counterpoint Research.
During the same period, global EV sales also experienced a 43% year-on-year growth. The leading regions in EV battery installations were China, the US, and Europe, unsurprisingly.
CATL's share of the market was 34%, followed by BYD at 16%, LG at 14%, Panasonic at 8%, SK Innovation and Samsung SDI at 5% each. CATL, BYD, CALB, Gotion, Sunwoda, and Farasis are all Chinese EV battery makers, and together they account for two thirds of the market, while the South Korean players combined (LG, Samsung, SK) have around 25% between them.
When it comes to what car makers swallowed the most EV battery capacity sold in the first half of the year, the top three are Tesla, BYD, and VW, in this order. Together they account for nearly 45% of the total battery capacity sold in that period, with Tesla taking 21%, BYD 16%, and VW 8%.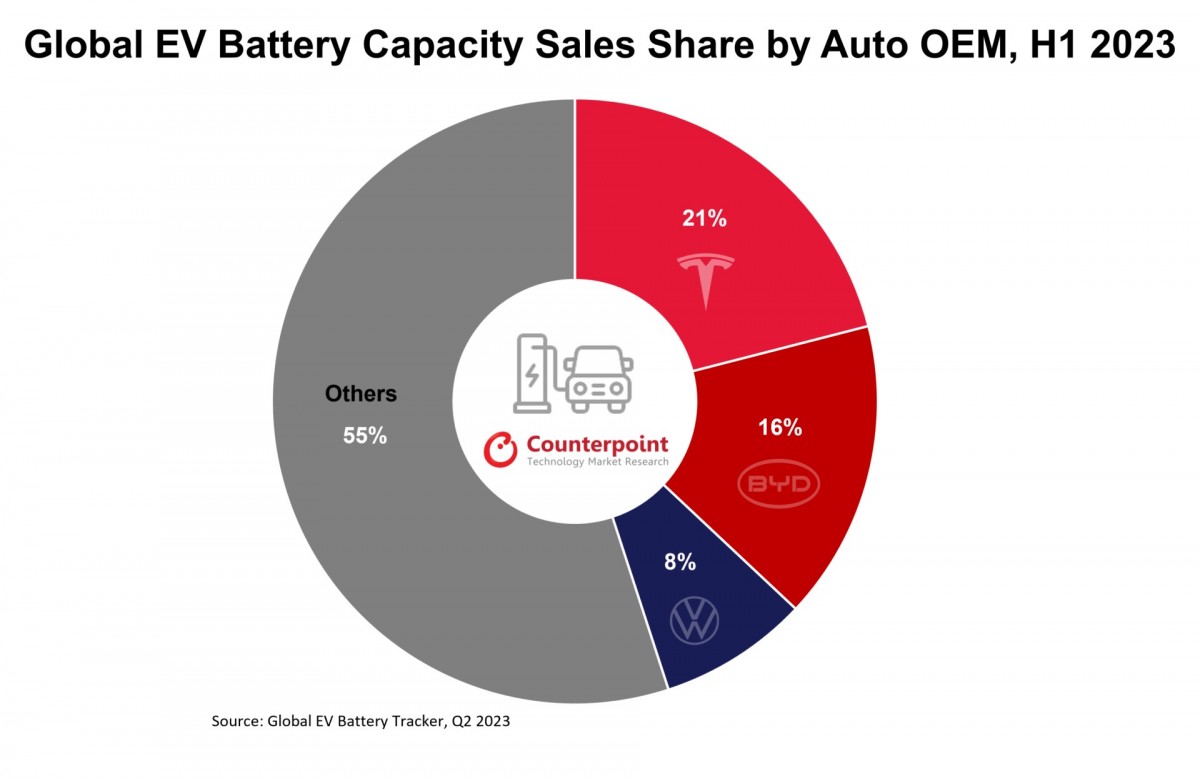 The "surging sales" of Tesla's Model 3 and Model Y played an important role in driving growth for CATL and LG. SK Innovation was boosted by Hyundai, Kia, and Ford EVs use of its batteries, while Rivian and BMW primarily rely on Samsung.
Counterpoint Research's Vice President Peter Richardson expects that the total EV-driven battery demand will reach 4TWh in 2030. Senior analyst Soumen Mandal expects numerous new battery suppliers like ACC, Verkor, Northvolt, and E4V to "secure a substantial presence within the battery supply chain" over the next few years. Automakers like Tesla, VW, BMW, Mercedes, and Stellantis are also working on in-house cell and pack manufacturing, "which will make the battery supply chain even more competitive", according to Mandal.