If you're in China and are in the market for a new electric SUV, and you don't want to sell a kidney to afford one – you might want to keep an eye on the Chery iCar 03. This Chinese-made electric SUV is expected to make its grand entrance next month, and get this – the price starts at a mere £16,600.
£17,000″>
Last week, the iCar 03's insides were unveiled, and they're surprisingly refreshing. The center console is wrapped in soft materials, and the multi-function steering wheel buttons are surrounded by a shiny black panel with a scroll wheel. It's like someone tried to marry technology with sportiness and didn't entirely fail. The dashboard features a center control screen and golden-colored air conditioning vents at the bottom. And if you're a fan of minimalism, you'll appreciate the absence of physical buttons. It's like the Marie Kondo of car interiors – only the essentials, please.
On the outside, the iCar 03 is a blocky SUV, complete with huge gray plastic bumpers, a flat windshield, and a high bonnet line. The running lights even form the letter "i," just in case you forget what you're driving. This rugged look is all the rage in China right now, so it's no surprise that Chery is jumping on the bandwagon.
Size-wise, the iCar 03 is not a small fry. It's 8.9 inches longer than the Hyundai Kona, with dimensions of 173.5 inches/75.2 inches/67.5 inches and a wheelbase of 106.9 inches. It's got five seats and a curb weight ranging from 3,913 lb to 3,968 lb, depending on the wheel size you opt for.
The iCar 03's powertrain comes with an LFP battery from CATL, a leading global battery manufacturer. The battery's capacity remains a mystery, but Chery has hinted at a range of up to 311 miles. The electric motor, which sits on the front axle, is a 135 kW (184 hp) unit manufactured by Qida, a subsidiary of Chery Group. And if you're the type who likes to push the pedal to the metal, the iCar 03 can reach a top speed of 93 mph. So, no – it won't break any speed records anytime soon. You know what else it won't break? Your bank account.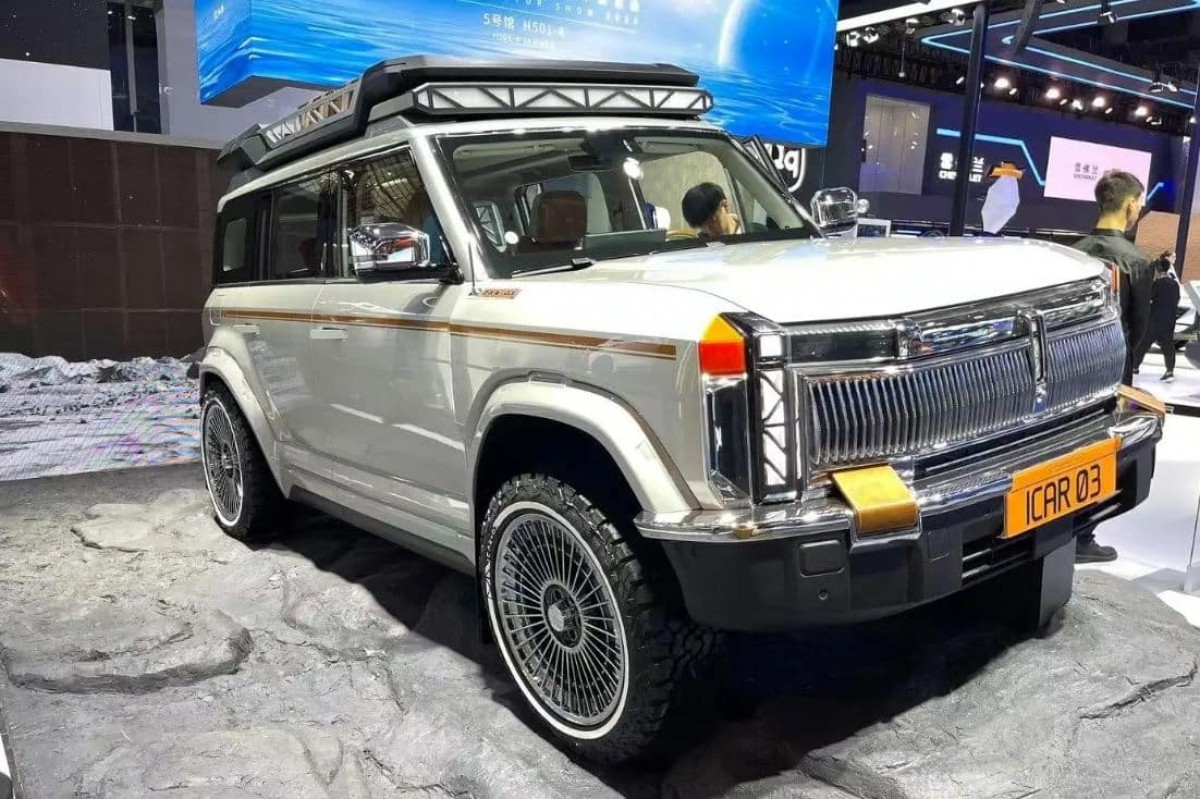 £17,000″>
Chery has already received government approval to manufacture a different model iCar, but they've been coy about showing it off. Instead, they've teased us with a return to the "i" logo. The iCar brand, aimed at young buyers, plans to roll out seven different models in the future, including a sporty electric coupe called the iCar GT.
So, is the iCar 03 worth the hype? Well, it's too early to say. But if you're looking for an electric SUV that won't require you to take out a second mortgage, this might be one to watch. Just remember, you often get what you pay for. But hey, at £16,600, maybe it's worth a test drive. As long as you're in China of course.