It seems the Chinese have found a remedy for range anxiety – enter the Dayun Yuanhang Y6, a new luxury sedan poised to redefine the benchmarks of the electric automotive industry. With the production set to start on November 8, this Chinese-manufactured marvel is not just a testament to technological advancement but also to the increasingly competitive pricing strategies in the EV sector, with models priced between RMB 329,800 and RMB 529,800 (£36,500 – £59,100).
634 miles range">
The Yuanhang Y6's impressive specs are anchored on its electric BHD platform, a brainchild of collaborative innovation involving Dayun, Bosch, and Huawei. This platform supports the sleek dimensions of the Y6 – measuring a notable 207.5 inches in length, 79 inches in width, and 59.1 inches in height, on a wheelbase of 123.2 inches. Elegance meets functionality in its design, boasting a fastback style, discreetly integrated door handles, frameless doors, and a vast 3.2-square-meter panoramic sunroof for an immersive experience of luxury and light.
At the heart of the Y6's performance are two powertrain configurations. The rear-wheel-drive variant delivers 250 kW and 295 lb-ft from a single electric motor. It offers two battery pack options – 88.42 kWh and 100 kWh – translating to a range of 447 miles and 503 miles respectively, with an acceleration from 0 to 62 mph in just 5.9 seconds.
The all-wheel-drive option elevates this performance to a new level, with dual motors at 500 kW/549 lb-ft or 520 kW/627 lb-ft, and a trio of battery capacities that include an 88.42 kWh, 100 kWh, and an impressive 150 kWh pack – the latter facilitating an unparalleled range of up to 634 miles. The sprint to 62 mph can be achieved in just 3.2 seconds, all while topping out at a maximum speed of 127 mph.
With the range anxiety dealt with, charging time is often the Achilles heel of electric vehicles, but not for the Y6. With its 800V fast-charging capability, a mere 10 minutes plugged in can replenish 186 miles of range, signaling a minimal disruption for those on the move.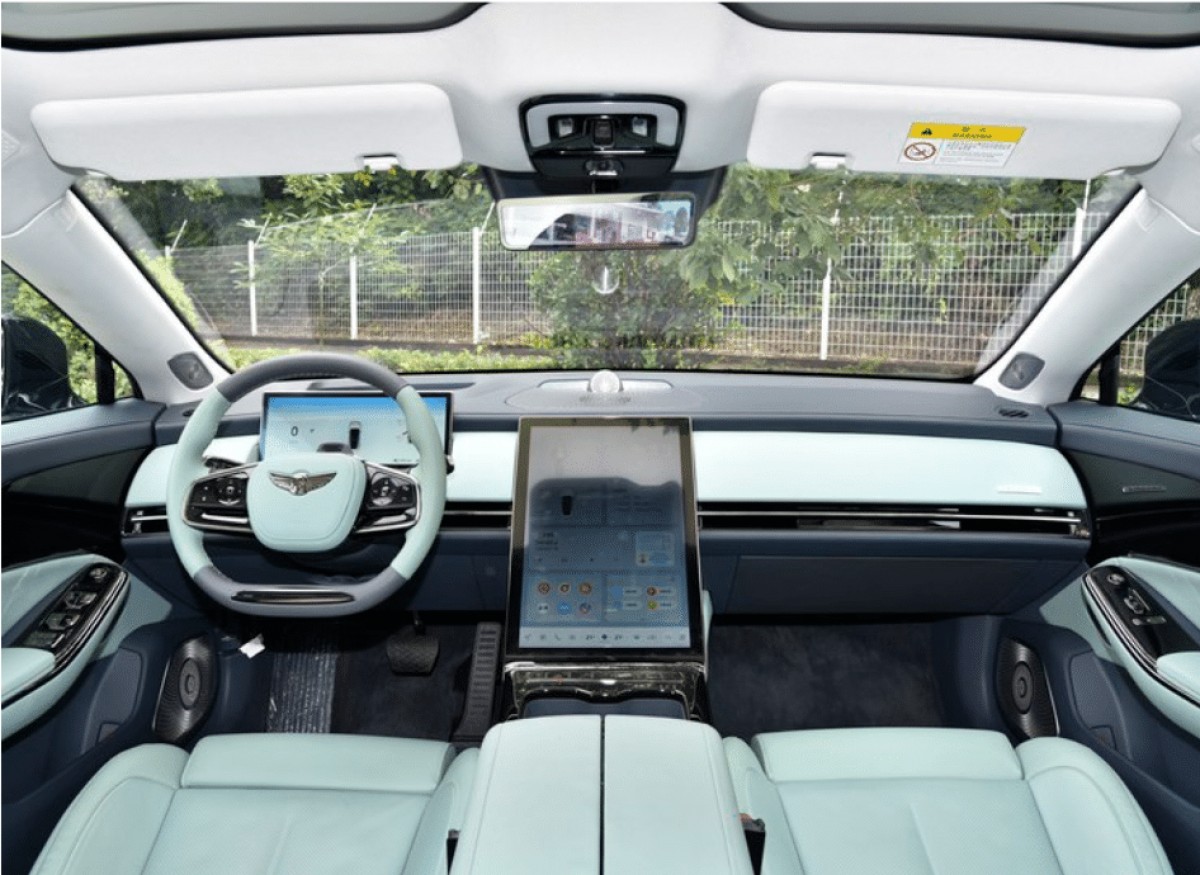 634 miles range">
Internally, the Y6 doesn't skimp on luxuries. Drivers are treated to a two-spoke flat-bottom multi-functional steering wheel, a 12.3-inch LCD instrument panel, and an expansive 17.38-inch central control screen powered by Alibaba's AliOS. Audiophiles will revel in the richness of sound from a 27-speaker audio system.
Safety and convenience features are robust, with an advanced driving assistance system that includes traffic jam assist, adaptive light control, lane centering, and full-speed range adaptive cruise control. The rear seating area is not just spacious but also versatile, with a reclining angle of 145° for the second-row seats and the option to transform the middle seat into an armrest area with two cup holders and a touch screen, enhancing the cabin's comfort and functionality.
As the world of electric vehicles grows more diverse and expansive, the Yuanhang Y6 wants to carve out its own niche as a luxury sedan that marries range, power, and elegance at a competitive price point. Its arrival marks an exciting time for consumers ready to embrace the shift to electric mobility without compromising on style or performance.
Once we look past the over-optimistic range estimates from CLTC, the Yuanhang 6 is a seriously attractive EV. We can only envy the Chinese consumers the choice and value they are getting. Will the Dayun ever leave Chinese shores and land in Europe or the US? Unlikely – to a lot of relief from the likes of Volkswagen and Ford.
Source (Chinese)