Let's kick things off with some good ol' number crunching. Imagine you've got to replace the battery of an electric vehicle, and you're staring at a bill for, let's say, £16,000. It's enough to make anyone's wallet weep. Now, compare that to the whopping cost of a hydrogen car's fuel cell replacement at £89,500. Suddenly, the EV battery looks like a clearance sale at your favorite discount store. Perspective, my friends, it's all about perspective.
The brave souls who ventured into the world of hydrogen cars might've bitten off more than they anticipated. Till Westberg, a German citizen, took a leap of faith and drove off in a Hyundai ix35 Fuel Cell a few years back. A seemingly smooth ride turned into a rollercoaster when he got slapped with a repair bill equivalent to the GDP of a small island nation.
Driving a hydrogen car might sound futuristic, like something straight out of a sci-fi movie. We are witnessing a concentrated push for hydrogen vehicles as apparently the more feasible option than BEVs. But while these vehicles operate much like their battery-electric counterparts, they come with the hassle of finding a place to refuel. Even in countries with a notable hydrogen infrastructure, like Germany, finding a filling station can feel like looking for a needle in a haystack.
When Mr. Westberg made his investment in 2015, the Hyundai ix35 Fuel Cell was being marketed at a rather ridiculous £108,600 in Spain, eventually settling at a much friendlier £56,500 in other regions of Europe. That's still a pretty penny, especially when it's double the cost of its petrol or diesel siblings. But he took the plunge, got a decent deal (just over £43,000), and all seemed well.
…Until the fuel cell gave up the ghost.
If you're scratching your head, wondering, "What's this fuel cell thingamajig?", let me simplify. The fuel cell is the heart of a hydrogen-electric car. It's where hydrogen from the car's tanks meets oxygen from the air, creating water and heat, and that is then turned into electricity. Think of it as the vehicle's mini power plant. Without it, the car just won't go vroom.
The ix35 Westberg owned housed a fuel cell that breathed life into a 136 hp electric motor. Its tanks could carry over 5 kilograms of hydrogen, promising almost 373 miles of road time. Not bad, right?
But when the heart stops beating, revival comes at a price. Westberg's repair didn't just "not make economic sense", as he put it; it felt like buying a brand-new luxury car all over again. The main component, the fuel cell, carried a price tag of £73,769, excluding VAT. Add in some side costs and labor, and we're left with an exorbitant total.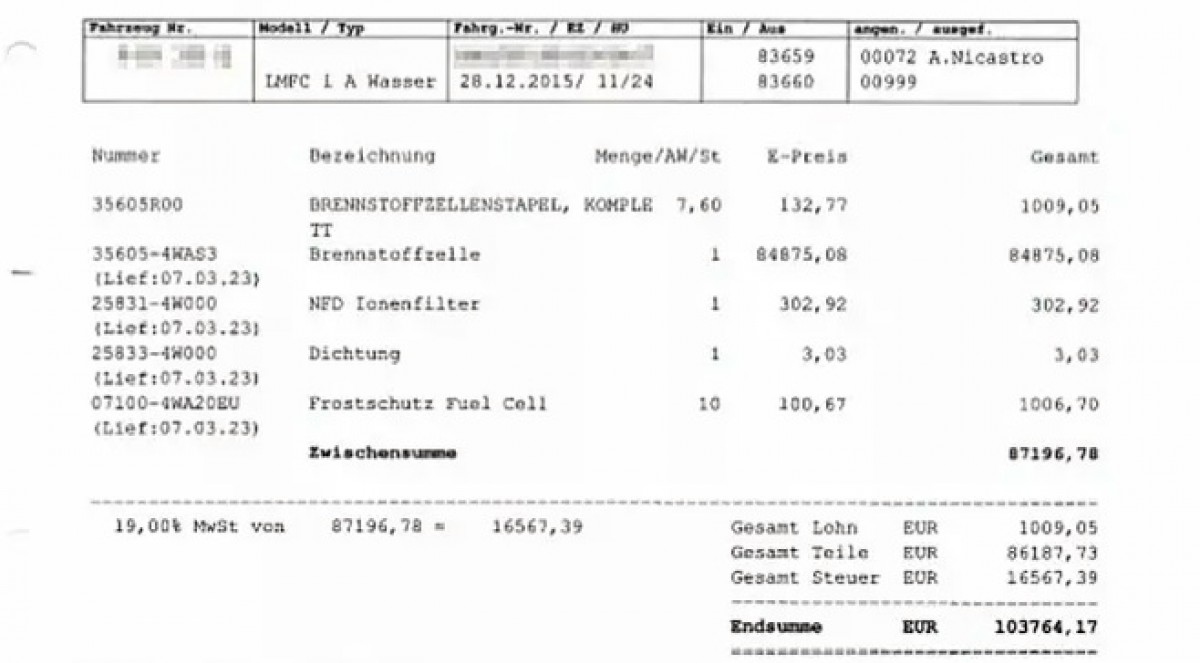 The scarcity of the technology, coupled with the Hyundai ix35 Fuel Cell's rarity, jacked up the costs. This hand-assembled car was limited to just a thousand copies. Add in the fact that the tech has evolved at breakneck speed in recent years, and you've got components that are, for lack of a better term, museum-worthy.
So, as the world watches to see how Hyundai will handle this automotive hiccup, perhaps they might consider buying back the car, offering an olive branch to one of the early adopters who embraced this niche technology. The world of alternative fuels is thrilling, promising, and, as Mr. Westberg discovered, occasionally soul and wallet-crushing. But hey, for those feeling the shock from a £16,000 EV battery replacement, just remember—it could always be a little more… "astronomical".
Via (French)