Reports are surfacing on Tesla owners' forums that vehicles booked in for routine servicing have had the radar sensors removed without the owner's request. Few people questioned Tesla technicians who replied they were simply following the latest bulletin issued by the company.
It appears Tesla has issued a technical bulletin to all of its service centers requesting that technicians remove all radar sensors from vehicles coming in for routine servicing. The bulletin explains that those sensors are no longer in use and yet consume some energy, in some cases the sensors suffer from water ingress as well.
When Tesla decided to move away from radars and ultrasonic sensors and focus on a vision-only approach for its Autopilot and FSD software, the company started disabling the sensors. Physically removing the hardware though is a completely new approach and many people question its validity.
The radar module ready for removal
The issue here is fairly complicated, many automotive companies – especially Tesla – would like to see the car as an end-terminal of a software solution that customers get to use. This idea works great in the world of computers and online subscription services, but when vehicle ownership comes into play, the lines get a little blurry.
Owning a piece of software or paying a subscription is nothing like owning a vehicle but Tesla wants us to see it the same way. The company believes that it in fact owns the vehicle and the customer is merely an end-user. The issue is that customers paid a lot of money for that vehicle and technically they own every bit of the hardware that the vehicle came with.
This isn't the first time Tesla tries to claim ownership of the components fitted to its vehicles. Many owners who had to replace the battery out of warranty shared their experience with the common theme being Tesla refusing to return the old battery. The battery was paid for by the customer in the first place. What made things even worse, was Tesla refurbishing the battery packs and selling them to other customers charging as much as $14,000.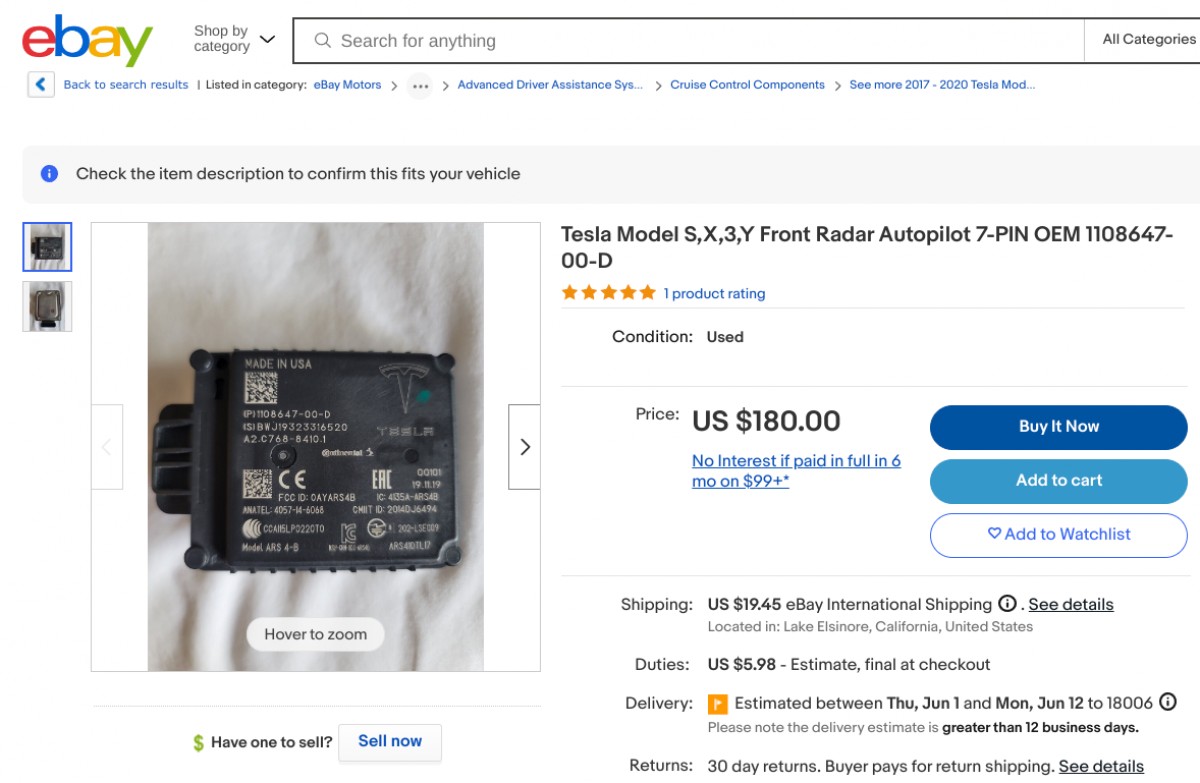 These modules aren't cheap
Radar sensors are nowhere near expensive but that's not the issue here. Tesla decided to make the sensors redundant which already is annoying since people paid for cars with the radar installed. But taking the actual sensors out and coming up with lame excuses of battery drain or water damage is low even for Tesla.
Many Tesla owners are holding on to the older models because they have the long-distance radars and ultrasonic sensors still fitted. Tesla cars despite costing a pretty penny, in many markets have the ADAS functions disabled meaning that even the most basic auto-parking is not possible, something that Nissan Leaf is happy to do all day. This is all in preparation for the long-awaited and much-delayed FSD which relies on cameras only.
That's why all the new Model S and Model X are now being fitted with Hardware 4 suite of sensors that include – yes, a new high-definition radar. It makes sense, just like Elon Musk denying reports of Tesla planning to sell China-made Model Y in North America and calling them fake – only to go ahead and sell China-made Model Y in North America. Let's wait till tomorrow to find out which way Tesla's prices go since this seems to be another brilliant new idea from the never-sleeping Techno King.